Vistaprint is known for its business cards, checks, invitations, posters and other traditional print documents. But are you also aware of how Vistaprint offers clothing?
Whether it is to promote your business, highlight a special event or to commemorate a special family-related activity, there are many types of clothing that you can order from Vistaprint. These include products for men, women and kids alike. You should look at the options that are available for each choice though as all products are varied in terms of what is available.
Typical Shirts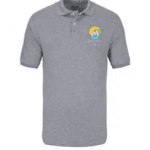 Traditional shirts can be ordered from Vistaprint. These can be produced with a special logo or other feature on the front. Basic and long-sleeve shirts are available for men and women alike. You can also find kids shirts for sale here. These are all made to work in many sizes for all the desires you have.
Most of these shirts are designed with basic white colors in mind. You can also find some with different colors. The ColorStrong series of shirts uses quality dyes to create consistent colors. Vistaprint recommends that shirts made with this particular line in mind should only feature small logos or text features as anything too large might look a little too rough.
Polo Shirts
Polo shirts are available for men and women and come in a number of sizes. These shirts are made to where a stitched logo will be produced on the breast pocket. This can include any kind of logo you want to apply. It may work in any color you want as well. You would have to use the preview feature to see how well the stitching would look on your finished product. Save on your Polo shirt order by using a Vistaprint coupon code with your order.
Hats
Hats are among the best apparel products you can order from Vistaprint. These are made with a number of colors in mind and feature adjustable points on their back ends. The front can be adjusted with a nice printed pattern. A matching printed accent can be added onto the back part of your hat as well. This should make for something attractive to give for a number of promotional activities.
Outerwear
Outerwear is available as well. A comfortable hoodie can be ordered with a nice zipper feature in the middle. A logo can be stitched onto your hoodie on the breast pocket area just like with a polo shirt. This adds a comfortable look that adds a great touch you are bound to enjoy having.
You can get a hoodie in a white, black or navy color. It is made with a mix of cotton and polyester materials to create a comfortable body that gives you a nice feeling that you are bound to enjoy having.
All of these clothing options from Vistaprint are good to have. Be certain when checking on what is available that you look around to see what can work wonders for your fashion needs. Also, take advantage of a Vistaprint Discount code to save up to 25% on your purchase.
Related Vistaprint Articles:
Get 500 Vistaprint Business Cards for $5
Key Features When Ordering Vistaprint Checks