Footsmart Coupons
Note: Coupons are Not Valid with Specific Brands – See Full List Here

20% OFF FOOTWEAR + Free Shipping on $150
Expires: Ongoing
20% OFF FOOTWEAR + Free Shipping on $150
Expires: Ongoing
15% OFF FOOTWEAR + Free Shipping on $99
Expires: Ongoing
15% OFF FOOTWEAR + Free Shipping on $99
Expires: Ongoing
$3.99 FLAT RATE SHIPPING on Men's and Women's DRESS and CASUAL SANDALS
Expires: Ongoing
$3.99 FLAT RATE SHIPPING on Men's and Women's DRESS and CASUAL SANDALS
Expires: Ongoing
Free Shipping on $59
Free Shipping on $59, Expires: Ongoing
Free Shipping on $59
Free Shipping on $59, Expires: Ongoing
Free Shipping on orders $75+
Expires: 8/21/2016
Free Shipping on orders $75+
Expires: 8/21/2016
About Footsmart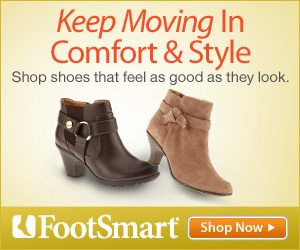 FootSmart, the largest direct retailer of foot and lower body healthcare products in the United States, understands that when your feet hurt or are not properly cushioned or supported, your entire lower body can be negatively affected.
FootSmart offers comfort footwear and foot care products to relieve foot pain, heel pain, and arch pain. Thier product selection includes comfort shoes, walking shoes, sandals, foot orthotics, and bunion and heel pain solutions.
Footsmart Commercials
Footsmart Coupons
–
4.5

out of

5
based on
155
votes.