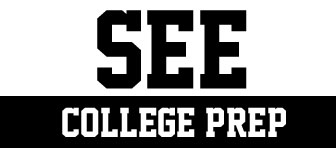 Developed by four SAT perfect scorers, along with a former teacher and a curriculum development professional, SEE's program includes the only SAT preparation curriculum tailored to the needs of low-income students. While our for-profit counterparts emphasize tricks and strategies, we focus on core academic material that students in under-resourced communities should have learned but may have missed. Since many of our students are the first in their families to go to college, we place extraordinary emphasis on the importance of the SAT on college matriculation; we also offer personalized college counseling services that help students through the college admissions process.
Participating high school Juniors and rising Seniors receive 80 hours of instruction, including 20 hours each in SAT Math preparation, SAT Verbal preparation, college counseling, and diagnostic testing. Classroom sessions are taught by professional teachers and cover all relevant course material. Students also benefit from the support from undergraduate mentors, who work with students in small groups of three to five to review practice questions and solidify understanding. In addition, four proctored SAT examinations give students the chance to test their skills and improve their scores. Students ultimately leave the program with an understanding of over 1,000 real SAT questions, drafts of their college admissions essays, and the knowledge they need to gain admission to college.

SEE College Prep delivers our program through partnerships with schools and community organizations in the San Francisco Bay Area and
Los Angeles. SEE has offered summer programs since 2008, and recently started to offer academic-year programs as well.
Using previously administered SAT examinations in an authentic testing environment, we see an average improvement of 202 points between students' diagnostic and final scores. With our partner organizations' longitudinal data, we can observe SEE's long-term impact. Ninety percent of our students go on to four-year colleges, and nearly all qualify for significant financial aid, making their college dreams a reality.
SEE is building a culture of SAT preparation and college aspirations in schools where previously few students matriculated. For example, at South El Monte High School in Los Angeles County, zero students obtained fee waivers for the Fall SAT in 2006. Last year, even though only twenty-five students participated in SEE's program, more than fifty fee waivers were distributed – an extraordinary network effect. This progress is significant, given that the University of California found that by simply taking the SAT, students are much more likely to go to college.
Students tell us that our programs-which solidify math, reading, and writing skills-have a positive impact on everyday academic performance in high school and college. Perhaps most importantly, two-thirds of our students tell us their SEE mentor was the best mentor they've ever.