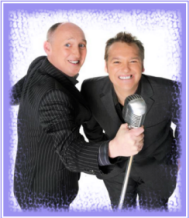 It has been a long time coming but we thought it was about time that we gave you good folks out there in computer land somewhere where you can visit us and find out what we are up to to whenever you fancy it.
Here you can follow what we are doing, find out where we are playing, we look forward to seeing you there and you can also keep in touch with us, tell us how we are doing through the guestbook or the contact form, please be gentle 😉
For anyone out there who doesn't know who we are and have stumbled across this site whilst searching for Harpic Cleaning Products or Harpooning Equipment for the weekend, here's a quick summary . . .
Rob and Darren Harper
We are two brothers who have been working together as a comedy duo now for about 8 years.
The comedy just took over from the singing and it has led to us being busier than ever. We have been very lucky to have worked with many great names such as Peter Kay, Joe Longthorne, Freddie Starr, Mick Miller & Johnny Casson.
We are enjoying every minute of what we do and hopefully you guys out there are too.
We look forward to a great New Year and hope that you will be spending it with us, we appreciate the support that we always receive from you guys out there. You keep us going.
Check out the rest of our site, become involved and let us know what you think, about everything
We have been named as Podcast of the week by CHORTLE! Check it out!